Thanks y'all for hanging in there with us through this pandemic! It's been a rough time for all of us!  BCB would like to give thanks to all the band's supporters (bluegrass family, fans, promoters/event planners, sponsors, private clients, and business owners) for another year this band has stayed in business! YOU are the reason the band continues to share their authentic music, growing a bigger bluegrass family every year! And thanks all for keeping live traditional bluegrass and old-time country music alive! With an already huge repertoire of songs, this band will continue to bring new material to their shows as time and events permit.
Visit this website often to keep up with their schedule. Like, Follow, and PLEASE SHARE on your social media! Thanks! We're looking forward to see ya at our upcoming shows! God bless and stay well!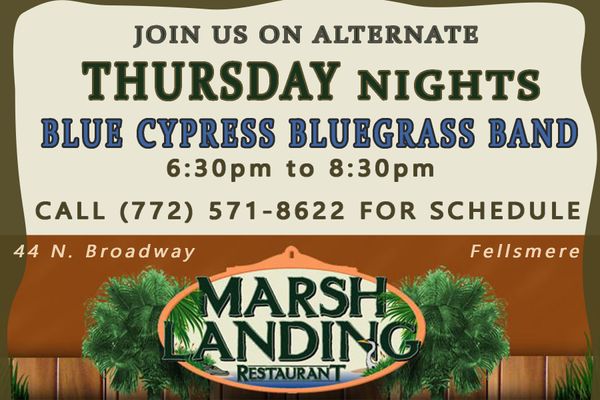 We return every alternate Thursday for bluegrass jam night.

As of July 8,... Weee're baaack but with a new schedule. Blue Cypress Bluegrass band has returned to Marsh Landing Restaurant in Fellsmere! EVERY OTHER THURSDAY from 6:30 - 8:30pm. Save the dates! July 29, Aug. 12, Aug. 26, and alternate Thursdays thereafter! Do you play or sing BLUEGRASS? Grab yer ACOUSTIC instrument and come play/sing a few songs with us! 
Come on out and welcome us back! Bring yer appetite and show Marsh some love too! RESERVATION STRONGLY RECOMMENDED!

*** FYI:  Our last show at Marsh Landing at the time of the Corona shutdown, made exactly 5 years straight playing on Friday nights there! Yep!  BCB started our weekly show there on Friday 13, March 2015. Our last show there was Friday 13, March 2020. So, help us get this party started back and make many more memories together!
CONTACT FOR BOOKING:

PAM RUDD
BUSINESS BAND MANAGER
(772)-538-8473  *MAIN
(772)-538-8474   ALT.
*EMAIL: bluecypressbluegrass@gmail.com
ALT: band@bluecypressbluegrass.com
You are visitor number: 8532